Butane Torch Kitchen Blow Lighter – Professional Adjustable Culinary Torches Chef Cooking 
Butane Torch Kitchen Blow Lighter – Culinary Torches Chef Cooking Professional Adjustable Flame with Reverse Use for Creme, Brulee, BBQ, Baking, Jewelry by FunOwlet (Butane Fuel Not Included)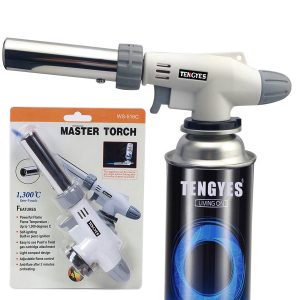 Highlights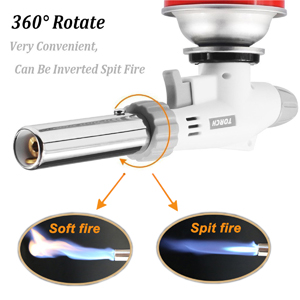 ✅ Professional Quality Food Culinary Torch: It is suitable for professional and creative family cooks. It is widely used in the processing of delicious caramel desserts, meat barbecue, cigar lighter, small handicraft and so on.

✅ Safety & EASY Butane Gas Torch: Adjustable flame size and shape to concentrate the flame as much or as little as you need, one touch piezo ignition, and stabilizing plate for your safety.

✅ Adjustable and 360 Degree Reverse Use Cooks Culinary Torch: Adjustable flame intensity temperature can reach up to 1300 c/2500 F to meet various needs, you can choose the different flame according to your requirement(Soft fire or Spit fire).

✅ Light Up with Piezo Ignition Technology: Just press to light fire, easy to operate with the gas flow regulator and air flow control valve cooking torch, can be flame intensity controlled, close the valve switch, the flame goes off!

✅ 100% RISK-FREE and NO Hassle Warranty: FunOwlet is committed to provide the best quality kitchen products in the market and customer's satisfaction is our #1 priority. We trust and stand by our distinctive torch. This is why our small blow torch is covered with NO Questions, NO Hassle Money Back Guarantee for 90 Days and a 3-year Warranty! So, order now and consider getting our ever popular and safest torch for your best friend too.
Product Description
Features:
– Flame and temperature can be adjusted, the temperature can be as high as 1300 Deg.C.
– 360 degree free rotation,can be used upside down
– Wind proof, moisture proof and water resistant, better than electric welding.
– Fully automatic electronic ignition, safe and easy.
– Ergonomic design for comfortable holding in the hand.
– Suitable for restaurant, household, picnic, hiking, camping and other outdoor activities.
– It can be fixed on butane tank, which can be replaced, cycle use is environmentally-friendly.
– Combustion value: 50 -150g / h. A can of gas can use 1.6 hours to 2 hours continuously, replace the new tank just need a little seconds.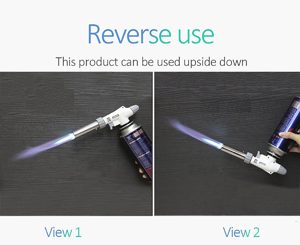 Specifications:
Dimensions: 10 x 4.9 x 1.7 inches/25.4 x 12.4 x 4.3 cm
Weight: 164g/5.8oz
Color: White and Silver
Material: ABS + Alloy
Calibre of spout: φ22mm
Max Flame Temperature: 1300°C
Type of gas: Butane
Appliance category: Vapour pressure-butane
Igniting method: Automatic piezoelectricity ignite
Power: Gas, fit perfectly with most butane cartridge (camping stove) A Standard 8 oz Butane Fuel Canister (for camping stoves) lasts over 2 hrs at full blast.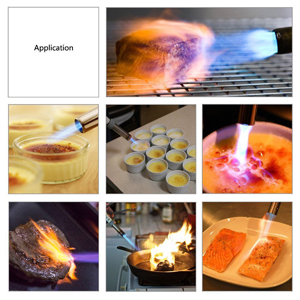 Cooking Tips:
☆ Put the "inner" blue flame 1/4 inch above the surface
☆ Move it about slowly
☆ Do one area at a time
Package Content:
1 x Culinary Torch
Note:
1. Please keep away from the kids.
2. Power off when you change the gas.
3. Be sure no gas is leaking before you use it.
Notice: Butane Gas cylinder is not included for safety reason.
If you like the butane torch, Click "Buy from amazon.com" to buy now!