Diamond Heart Silicone Cake Mold, 8.7 Inch Mousse Cake Pop Molds with 6 Cavities Geometric Heart Shaped Molds, Letter Number Chocolate Mould and Wooden Hammers Baking Pan Food Grade & Not Sticky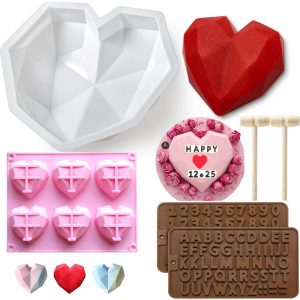 Good Combination – Come with 1 piece diamond heart cake mold tray, 1 piece 6 cup geometric heart shaped molds, 2 pieces wooden crab hammers, and 2 pieces chocolate molds in 2 shapes: letter mold and number mold.

Stable and Durable – The cake mold trays and chocolate molds are made of silicone material, durable and flexible to use, reusable, non-stick, can be applied within the temperature between -40 °F – 230 °F, while the hammers are made from natural wood are sturdy and durable with smooth finish.Our diamond heart shaped molds could be to use in ovens, microwaves, dishwasher, and refrigerator.

Simple Operation – These tools of heart molds for chocolate help bake with less effort and time, just mix the ingredients and pour it into the mold, a diamond heart-shaped mousse is then formed, making DIY simple and funny that help bakers create more interesting pastry dessert, easy to use, that you can spend more funny baking time with your family and kids.

UNIQUE SHAPE – Our mousse made by heart mold is very beautiful. The unique diamond shape makes your cake the most dazzling one whether it is at a party or a wedding.

Wide Application – Use this heart silicone mold to make desserts, brownie, cake, pudding, candy, cookie, etc., for birthday, Christmas, Valentine's day, wedding, holiday and other occasions. The best gift for your family and friend.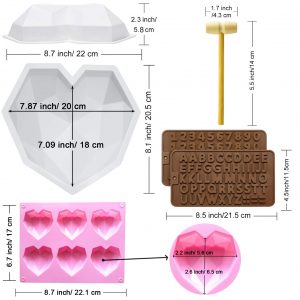 Our silicone molds are made of 100% food grade silicone, BPA free. The special 3D diamond-heart shape will make your works of art spectacular. The cake molds are suitable for microwave, oven, and freezer, meet most of your daily baking needs. Perfect for cake, breakable heart cake, cake decoration, French dessert, bread, biscuits, snack, etc. Recommended for lover's day, marriage proposals, weddings, anniversaries, birthday, and other special occasions.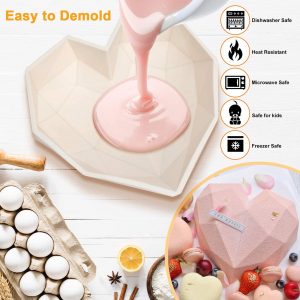 How to Use:
1) Before use, you can briefly oil the silicone mold or coat the silicone baking dish with oil. This will ensure that the silicone does not stick.
2) Place silicone baking trays on a baking sheet before pouring into the dough. This will make it easier to place the trays in the oven and, on the other hand, are easier to remove when the cake is done.
3) Preheat the oven and watch the oven temperature indicated on the cake, muffin, or cookie mix. The temperature range of the silicone mold is -40 ° C to 230 ° C.
4) Pour the cake batter into silicone molds. Leave about 1/4 inch of space on top of the mold. Place the baking sheet and baking dish in the oven to bake for the time indicated in the recipe. Check often to make sure the muffins are not burnt as baking times depend on the silicone molds.
5) After baking, remove the baking sheet and dish from the oven. Wait a few hours or until the cakes have cooled before decorating them with the icing.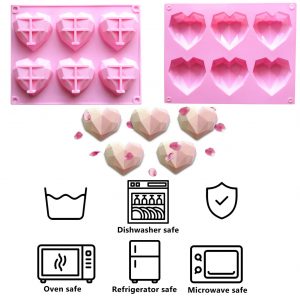 Package includes:
1 x Diamond Heart Silicone Cake Mold
1 x 6 Cavities Geometric Heart Shaped Molds
2 x Letter Number Chocolate Mould
2 x Wooden hammers
Warm notice
Please allow us to vary by 1-2 mm due to manual measurements.
Clean it with a sponge normally in the dishwasher or hot water. It will be better to turn the mold over when cleaning.
It is recommended that take out the baking tray and cool it for about 10 minutes before demoulding after baking is completed.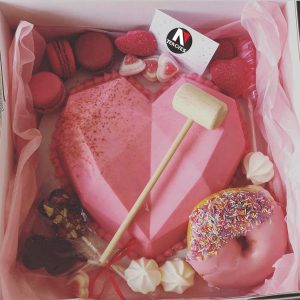 If you like the Silicone Cake Mold, Click "Buy from amazon.com" to buy now!