Knee Brace Compression Sleeve Support – Adjustable Strapping Sleeves Women Men Braces with Dual Side Stabilizers & Patella Gel Pads for Arthritis, ACL, LCL, MCL, Meniscus Tear, Joint Pain Relief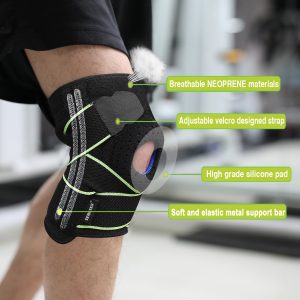 ✅ ONE SIZE FIT FOR EVERYONE — Adjustable open knee braces support fit to all adults builds just fine. Perfect buy for someone you knew who needs this without asking them their sizes, it would be a lovely surprise. TENGYES knee braces for women men is a great festive gifts!

✅THE BEST SUPPORT & PAIN RELIEF — The flexible stabilizers will be perfect holding to relieves pressure and reduces stress. We have developed and incorporate springs in 2 sides with 1 Patella Gel Pads at kneecap position. It is indeed carefully designed to reduce the stress focus on the knee-joint during heavy work and intense exercise. Beneficially effective to relieve acute and chronic knee pain from fatigue, strains, sprains, arthritis and any injuries due to some reason.

✅NON SLIP & MORE STABLE — The patella stabilizing knee brace with velcro designed strap and anti-slip silicone that can be wrap around to any exterior part of the knee brace to firmly put it in place with the 2 Velcro straps that allows you to adjust the tightness in your own choosing and feel the support that's best for you, thus making it more stable than the other same product in the market.

✅COMFORTABLE TO WEAR — Extra-thick NEOPRENE sleeve offers additional protection and improved blood circulation to the muscles and tendons even as internal perforations draw away excess perspiration from the skin for a more comfortable experience.

✅BECOME ACTIVE AGAIN FASTER — Open patella knee brace for arthritis is both for preventive and rehabilitative purposes for an ACL injury, MCL, LCL, PCL, giving extra knee support for women and men and stabilizing patella for active people. Perfectly suitable for post-surgery recovery or preventing sports injuries.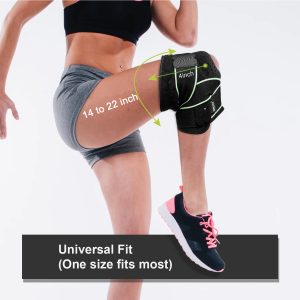 The adjustable patellofemoral knee brace is 8.5 inch tall, 14 – 22 inches in circumference, please measure 4″ above kneecap
The Knee Brace patella stabilizer can reduce pain, enabling you to master day to day life with ease. Either you have arthritis, osteoarthritis, patellar tendinopathy, sprain, ACL injury or you wish to prevent the patella injury, you can use our knee support open patella with silicone fixing ring for meniscus tear recovery.
Maximum Support to help engage all your natural movements without holding you back!
If you are powerlifting or visiting a gym actively please mind that a huge load goes to the knees, joints and meniscus. The best way to avoid serious problems with knees is to fix them with knee brace. Also you can protect your knees and patella tendon while jumping, fitness, going in for sports, hiking, riding, biking, volleyball, basketball, tennis, running, jogging, skiing, tracking, squats and even longboarding. In longboarding tricks and downhill when the longboarder gains speed there is a big risk for knees and patella tendon, so it is reasonable to protect your knees with knee sleeve or more firm knee braces for women men or patella stabilizing knee brace.The knee brace for meniscus tear is easily adjustable for more or less compression based on your needs and comfort. Elastic side Metal Spring Bars provide a perfect tightening and comfortable feeling during every day activities.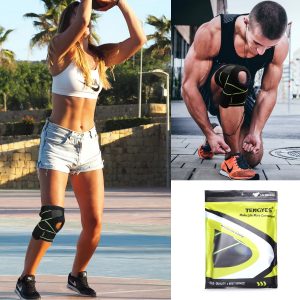 PRODUCT DESCRIPTION & BENEFITS
— OPEN PATELLA DESIGN This opening to kneecap area helps lessen pressure on sore area promoting speedy recovery following any types of knee injury.
— PATELLA GEL PADS that brings more and added comfort to the kneecap during motion.
— FLEXIBLE STABILISER SPRINGS for perfect holding to relieve pressure and reduces stress.
— VELCRO STRAP that allows adjustments to your desired tightness for great comfort.
—ANTI-SLIP SILICONE STRIPS that make it more stable and prevent falling off.
If you like the Knee Brace , Click "Buy from amazon.com" to buy now!