Universal Angularizer Ruler Template Tool – Full Metal Multi Angle Measuring Ruler Template Tools Upgraded Aluminum Alloy Multi Function Ruler with Goniometer Head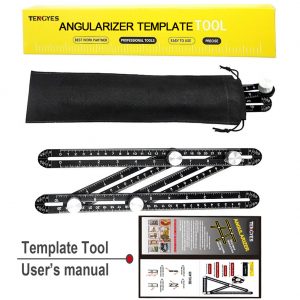 ✅Upgraded Aluminum Alloy with Laser Etched Scales and Goniometer Head

✅EXTREMELY ACCURATE & EASY TO USE: Just place onto your work area, slide the rulers into the shape you need, and tighten the screws. Then you have your flawless measurement which can now be transferred and traced onto any materials.

✅HIGHLY VERSATILE: Tengyes ultra nook scale ruler slides and locks into any desired angles to save you time on repetitive measurements. The four-sided ruler mechanism slides and locks into any desired angle as a reusable stencil for endless applications. No need to create a new template for each new job or remeasure the same angles over and over again – the multi angle measuring tool saves you both time and effort!

✅MULTIPLE APPLICATIONS: Create layouts in tiling, bricking, paving stone, lumbering, laminating and more! The angularizer ruler is handy for creating bull eyes, arches, plumb cuts and any projects you can think of. It's the most versatile tool you can own – and the the buzz digger also makes a great gift!

✅ DURABLE, COMPACT & LIGHTWEIGHT: Excellent portable the ultimate template tool, easily folded and carried to your next project.Metal Material makes the ruler durable for any job and industry. Your tool folds for easy storage and utilizesing a unique tightening mechanism for one-handed operation.

✅100% MONEY BACK GUARANTEE – Enjoy a risk free purchase and buy with confidence! If you don't like our template tool for measuring angles – return it. We stand behind all of our products, so you can return your Any-Angler within 60 days for a hassle-free, easy refund. FREE 1 YEAR WARRANTY!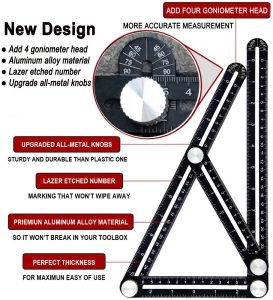 The DIY Universal Angularizer Ruler is a handy personal and professional device for creating specialized angles / shapes in tile, brick, stone, wood, laminate, and more. Its four slotted rulers can move and lock into any position to become a customized stencil in seconds. The arms are dual-calibrated in both inches and centimeters for your convenience. You can even use it to make bull's eyes, arches, and plumb cuts on roof joists. The ultimate ruler for carpentry, brick work, flooring, roofing, tiling, and more – the Universal Angularizer Ruler is the perfect tool for the job!
Specification:
Color: BLACK
Measurement: 10 * 5 inch
Included Components: Angle Template Tool
Material: Aluminum + SS
Measurement Accuracy: 1mm
Measurement System: English/Standard
Specific Uses For Product: Indoor & Outdoor
Style: Molding angle finder
Subject Matter: Measuring & Layout Tools
Intended Use: Marking Lumber, Angles for Paver Bricks, Spacing and Gauging
PACKAGE INCLUDES
1x Tengyes Universal Angularizer Ruler
1x Storage Bag
1x User's manual
1x Ruler Packing box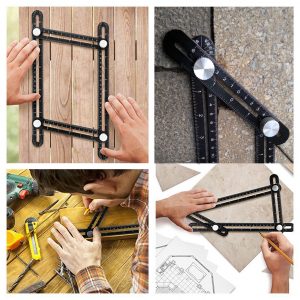 Why choose TENGYES ?
-We are honest amazon seller, we need good reputation to make money to feed kids and our family, so please don't worry about the after-sale service!
►How does it work?
-SIMPLE! First get the Tengyes measuring ruler template tool!
1. LOOSEN SCREWS AND GRAB LONG ARMS
2. PULL LONG ARMS APART
3. GLIDE SHORT ARMS TO FORM DESIRED ANGLE
4. TIGHIEN SCREWS AND STENCIL YOUR MARKINGS
►NOTE:
Loosen (turn knobs right)
Tighten(turn knobs left)
If you like the Universal Angularizer Ruler , Click "Buy from amazon.com" to buy now!